"What Do You Want To Be When You Grow Up?"

From as early as I can remember, I wanted to play center field for the Mets.
Any time anyone asked the typical, "What do you want to be when you grow up?" - whether it was a teacher, or my grandma, or one of my friends - that was always the answer.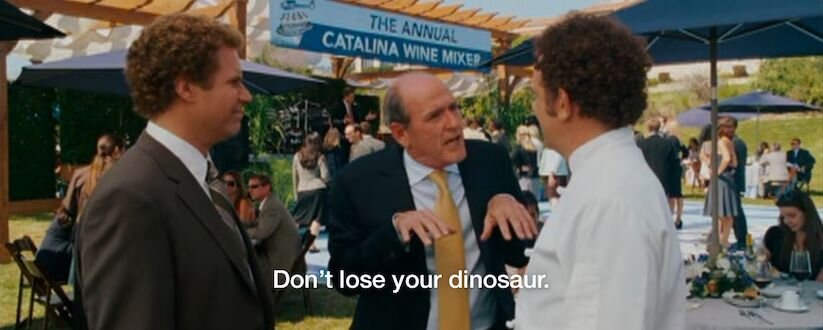 And yeah, it's more realistic than John C. Reilly's doctor father wanting to be a dinosaur in "Step Brothers," but not by much. I was blessed with enough athletic talent to be good at most sports but not enough to be great at any of them. And what I lacked in talent, I made up for in not being willing to work hard enough to see if it was an attainable goal.
I still lack that drive from time to time, unfortunately, which brings me to why this particular question is on my mind today. The dream of being a professional athlete has long since passed, but we all still have things we'd love to spend our time doing if we could. Maybe you love to garden, or bake and decorate, or paint. And you'd like nothing more than to spend your time doing that thing you love and being paid for it.
That's where I'm currently at. I'd love to get paid to write, and I'm taking slow tentative steps in that direction, but I find myself solidly where I've spent most of my professional life - doing something I'm good at but not what I prefer or would most enjoy.
I saw a great illustration yesterday that is for the moment motivating me to push ahead a little more. It was on a really cool site called socurious and accompanies an article called "How to find your purpose." Not sure what the rules are about posting links without permission, so Google it … you won't be sorry.
For someone who lacks motivation as a regular state of being, anything that can get me thinking positively is a gift from the universe, and I plan to try and treat it as such. 
Hopefully, the end result is a better answer to "what do you want to be when you grow up?' than the one I've been gjving.
***
Shoutout to my talented and incredible wife, who took the same illustration as an opportunity to tell the social media world about her latest venture. I couldn't be prouder of her for taking such a scary step.
Chris Brewster writes from his home in Waverly, New York. You can see more of his writing here. Chris also recently released his first book, A Lab in The Lab, which you can find here.